Here is a link to the readings for this weekend.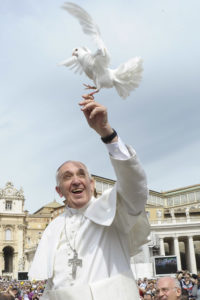 Pentecost is the feast of unity. It is both historical, as, for example, when the Holy Spirit brought unity of understanding that transcended verbal confusion. It is also eschatological, portending the New Creation when all things will exist in perfect harmony as God intends. On this feast of unity, then, it is worth noting that "When the time for Pentecost was fulfilled, they were all in one place together."
Last weekend was Mother's Day and it was wonderful seeing so many posts on social media of children of various ages together with their mothers. What stands out, though, are the posts by mothers themselves who rejoiced to see their children home. "Baby bears all home," one woman wrote, "Mama bear is happy." In my own family, we did not all get together at my mother's house this year. There were many individual visits, but we were not all under one roof at the same time. As the posts from other mothers indicated, and as my own mother says when we are all together, there is something special about those occasions when we are "all in one place together."
This is true of the Church as well. One of the threats to our faith perennially is the prideful unwillingness to gather with other members of the Church with whom we have differences. The Protestant theologian and martyr Dietrich Bonhoeffer reminded us in Life Together that Christian community is harmed when we replace the actual community God has given us with our "wish-dream" community. Parker Palmer makes a similar point, saying that Church should feel like a collection of strangers in some ways. He argues that our family metaphor for Church community could lead us away from "the company of strangers," which is essential for Christian life. When we divide ourselves into separate churches based on politics or theology, wealth or poverty, race or liturgical preferences, or any other differences, we divide the Body of Christ. It would be better is we "were all in one place together."

The Holy Spirit came to the disciples at Pentecost, but not without their involvement. God's work in the world is always the creative and redemptive work of love—and love requires a two-way street. Love is a call and response. It involves freedom, an unforced "I do." The Spirit, the great Giver of Unity, the ultimate Guarantor of Jesus' own prayer "ut unum sint"—"that they may all be one" (John 17:21) is entirely God's gift. Yet, like any gift, even Pentecost was not imposed. Love does not coerce. Instead, there is a marvelous marriage of the human and divine. The followers of Jesus "were all in one place together." They physically assembled, and remind the Church forevermore that we must do the same. They prayed, joining with Mary, the Mother of the Church. Here, too, they set the model for all ages to follow. We cannot pray alone, privately, and think that is sufficient, though it is indeed necessary. Instead, we must gather "all in one place together" and pray with Mary, that is to say, with the whole Church. (Mary, after all, as the bishops at the Second Vatican Council remind us, following the teaching of St. Ambrose, is a Type of the Church itself. [Lumen Gentium 63-65]).
Our small, feeble attempts to promote Christian unity, both ecumenically and within Catholicism, are met by the power of the Spirit. When the disciples told Jesus the crowd was hungry, he said "Give them some food yourselves" (Mark 6:37). When they provided their meager means—just a few loaves and fishes—with faith, Christ multiplied them. Grace works through nature. Here, we see the same dynamic. By doing the work of gathering "all in one place together" and praying as one, the disciples are met by the Spirit to overcome division, to bring understanding despite various languages and cultures, and to ultimately fulfill the prayer of Jesus, "that all may be one."
We sense a lot of division in the Church, don't we? But the Spirit is up to something! Though we are liberals and conservatives, though we prefer Latin liturgies and various vernacular liturgies, though we take different positions in the great theological battles of our day, we are united in one baptism, sons and daughters of the one Father, confessing one faith in Christ Jesus the Lord (Ephesians 4:5).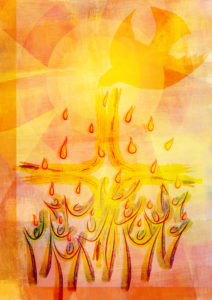 We are sinners all and we "all fall short of the glory of God" (Romans 3:23). But, we are not enemies of one another. We are not in league with satan, but with Christ, "For whoever is not against us is for us" (Mark 9:40). Our words in person, online, in print, and on social media must be filled with charity and deep respect for the diverse members of the one Body of Christ.
In other words, despite our differences, we must be willing to gather "all in one place together." When we do, prayerfully joining Mary in her perfect "yes" to God's will, we are in the Upper Room again, and the Spirit meets our feeble attempts at love and unity with all the power of Pentecost!
Photo credit for the artwork of the dove:  P.RAZZO/CIRIC
Photo credit for the Pope with a dove: POOL OR/CPP/CIRIC
Photo credit for Pentecost stained glass at Lourdes: Alain PINOGES/CIRIC
Photo credit for the 7 gifts of the Holy Spirit: Jean Michel MAZEROLLE/CIRIC
The post They Were All in One Place Together appeared first on Bayard, Inc..