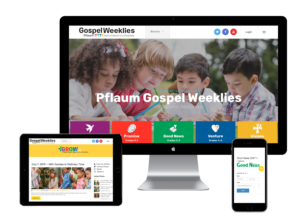 Dayton, OH — Pflaum Publishing Group is proud to announce the launch of the new Pflaum Gospel Weeklies website.
With a fresh, clean look and simple navigation, the new Gospelweeklies.com now offers catechists, teachers, DREs, and parents easy access to everything they need. Customers have a host of additional free resources that are organized by curriculum level and can be accessed through many menu options.
With this latest update comes interactive online assessments for Grades 2 through 9, a complete Spanish section, and easy access to the quarterly reviews of each unit to help customers with their lesson planning. In addition, all the great features of the original site are still available and even easier to find, such as: music lyrics and activities, additional support materials for directors, and supplemental activities and video links for the lessons.
Pflaum Publishing Group is a division of Bayard, Inc., a Catholic media company owned by the Augustinians of the Assumption (Assumptionists) and serving the K-12 education market. Pflaum publishes a wide range of materials for Catholic religious education including the Pflaum Gospel Weeklies Faith Formation Program for preschool through grade 9, Together in Jesus sacramental preparation programs for primary grades, Gifted with the Spirit Confirmation preparation for junior and senior high, Children Celebrate! for Liturgy of the Word with children, and much more. Pflaum also publishes two magazines for Catholic educators: Today's Catholic Teacher, the #1 resource for teachers in Catholic schools, and Catechist, written for catechists in parish religious education programs. For many years, Catechist and Today's Catholic Teacher magazines have been the leading periodicals to help both the veteran and the first-year catechist/teacher be more successful.
---
FOR MORE INFORMATION, please email or call Angela Baumann at 636-305-9777 / 800-325-9414 ext. 2146 or angela.baumann@bayard-inc.com
Interested in any of our products? Talk to our experts today. Contact the Sales Representative of your diocese at http://www.pflaumweeklies.com/representative
The post Pflaum Publishing Group launches new Pflaum Gospel Weeklies website appeared first on Bayard, Inc..